CONTACT US
SEND INQUIRY NOW
Address: No.2 Shizhou, Baichen Rd., Gangbei Industrial Park, 528313 Chencun Town, Shunde district, Foshan City, Guangdong Province, P.R.China.
Contact Person: Ms KOKO (Binghuan Kam)
Cell Phone: +86-186 6658 8760
Tel./Fax: +86-757-29313278
Email: info@kendyautomation.com
Website:https://www.kendypacking.com
Left & Right side traditional feeding & packing line is widely using for such as biscuit, peach cookies, cakes, moon cakes and pastry material etc. It can be connecting production line; It can be single piece packing, layer packing (can not be divide positive and negative side) or front and back group packing.
Left & Right traditional feeding & packing advantages:
1. PLC controller which matches up frequency conversion system to accurate positioning, packing speed can be 260 bags/min.(according to product's shape and size);
2. Touch screen display is ealisy for controlling;
3. It can be added configuration for singel piece packing, layer, 1*2 bunching or 2*2bunching packing modality;
4. Linear feeder conveyor belt is easy for installation and replacement;
5. Food grade blue anti-microbial vonveyor belt can be white color option.
CONTACT US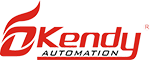 Foshan Youngsun Kendy Intelligent Equipment Co., Ltd.
We are always providing our customers with reliable products and considerate services.
If you would like to keep touch with us directly, please go to contact us