CONTACT US
SEND INQUIRY NOW
Address: No.2 Shizhou, Baichen Rd., Gangbei Industrial Park, 528313 Chencun Town, Shunde district, Foshan City, Guangdong Province, P.R.China.
Contact Person: Ms KOKO (Binghuan Kam)
Cell Phone: +86-186 6658 8760
Tel./Fax: +86-757-29313278
Email: info@kendyautomation.com
Website:https://www.kendypacking.com
Double line feeding & packing line is made of main conveyor belt, dividing conveyor, flip conveyor belt, double feeding conveyor and packing machine.It can be automatic assigning to double line feeding machine for layer packing or online sandwich packing, reduce labor cost, reduce losses and high efficiency.
Advantages:
1. Use montion controller which matches up servo systme to accurate the possitioning, the packing speed can be 300-500 (layer)bags/minute (according to product's shape and size);
2. Intelligent touch screen display,easily for operating;
3. Automatic flip function for positive and negative side products, widely for coated biscuits, Franzzi etc.
4. Easily installation function for belt replacement;
5. Food grade blue anti-microbia PU belt can be whith color as customer's option;
6. It's suitable for biscuits/cookies online sandwich: L(30-60)*W(30-50)mm*T(4-10)mm; Waffle online sandwich: L(50-90)mm*W(50-80)mm*T(4-15)mm
CONTACT US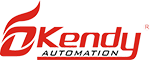 Foshan Youngsun Kendy Intelligent Equipment Co., Ltd.
We are always providing our customers with reliable products and considerate services.
If you would like to keep touch with us directly, please go to contact us